A guarantee of safety and efficacy for patients
Marketing Authorization is a procedure that has become widespread in most countries of the world, under the control of the States, to guarantee the safety and efficacy of medicines for patients, from their conception to their withdrawal from the market (notion of life cycle). Medicines, before being introduced on the European or French market, must receive a marketing authorization.

A drug is legally defined as:
A substance or composition presented as having curative or preventive properties with regard to diseases, or
A substance or composition that may be administered for the purpose of establishing a medical diagnosis, or
A substance or composition that can be administered to restore, correct or modify organic functions.
Certain claims or therapeutic allegations put forward for certain cosmetic products or food supplements may therefore earn their owners the anger of the regulatory authorities.
Main stages in the design of a medicinal product before marketing authorization.
Marketing authorization is the culmination of a long process to design a safe and effective medicine. This process usually takes about 15 years.
In general terms, the main stages in the life of a drug from conception to marketing are as follows. (1)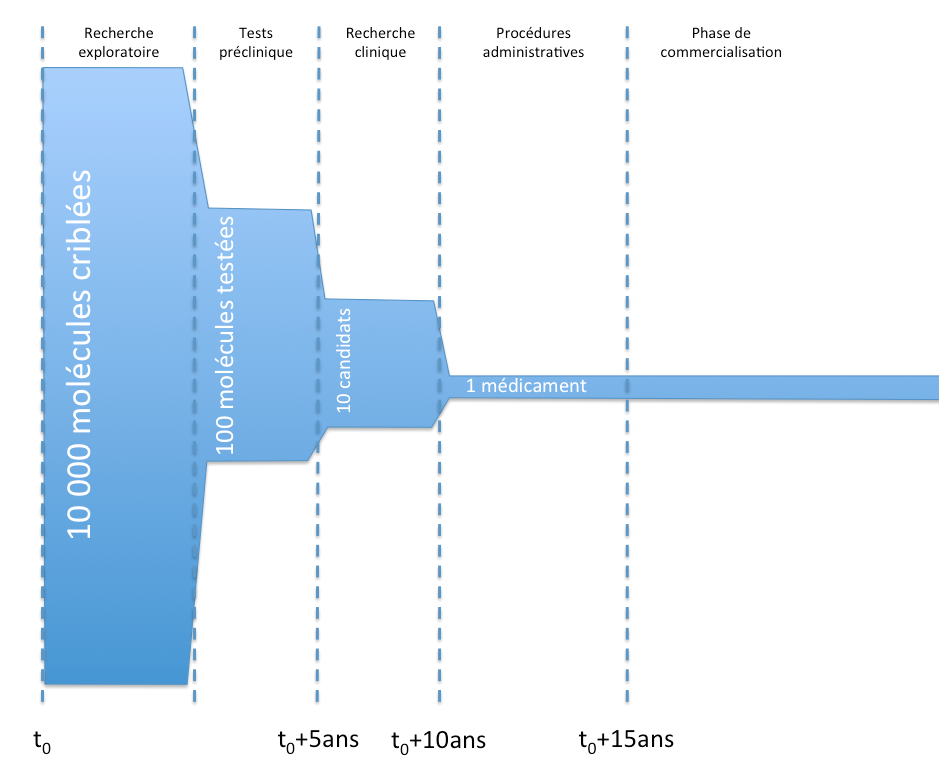 Exploratory research combines, for the chemical drug, the synthesis of multiple variations from the same basic skeleton or the reuse of existing molecules in databases. The molecules most likely to give a pharmacological action are selected either by testing in vitro, in vivo (cell models) or in silico (computer models, based on docking or QSAR studies). Following this screening, only a hundred or so molecules are eligible to start pharmacological trials. In the end, only one will be left for the marketing authorization application!
Next come the preclinical trials and the clinical trials. (1)
The purpose of preclinical trials is to check the tolerance of molecules in vitro in animals, to carry out toxicological tests and to study the pharmacokinetics of molecules (basically, to see how quickly the molecules act, are absorbed or are eliminated).
Clinical research (approximately 7 years of work) is divided into three main phases:

Phase I: tolerance + metabolism:
Trials in human patients, on a small cohort of healthy volunteers. These trials aim in particular to test the tolerance of the molecules in patients and determine human pharmacokinetics.
Phase II: efficacy and optimal dose:
Trials in human patients, on a larger cohort of sick volunteers (but without other pathologies).
These trials aim above all to establish the benefit/risk ratio of the molecule and to define the efficacy doses, the route of administration and the optimal therapeutic dose.
Phase III: efficacy and safety:
Trials in human patients, on a large cohort of sick volunteers under real conditions.
These trials aim in particular to verify efficacy ("double-blind" study) versus the reference drug (or, failing that, placebo) and long-term safety.
During the marketing phase, a "pharmacovigilance" mechanism is put in place: potential side effects are collected from health professionals and may lead to observational studies.

In addition, interventional studies (known as phase IV) may be carried out, particularly if the marketing authorization so requires, because of the small number of patients during clinical trials. These studies are carried out under conditions similar to usual care, with the aim of identifying any rare adverse effects not detected during the previous phases (pharmacovigilance) and specifying the conditions of use for certain groups of patients at risk. This phase makes it possible to analyse drug interactions and encourages the development of new galenic forms and extensions of therapeutic indications.

During the marketing phase, secondary clinical studies may be conducted at the initiative of the manufacturer to test the drug on another disease, a new population, as part of a new therapeutic strategy, etc., to authorize a new indication.

Bibliography, to find out more:

(1) https://www.sedlex.fr/brevets-en-france/la-procedure-amm-et-les-ccp/

(2) Public Health Code

[i] Quantitative Structure-Activity Relationship